cPanel – World's Best Control Panel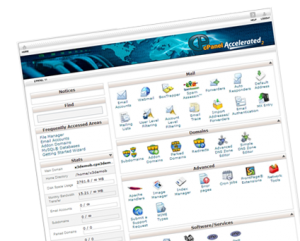 Each account comes with cPanel, a control panel which is extremely feature rich and easy to use with its web based interface (GUI). You have the ability to manage all aspects of e-mail, files, MySQL, backups, FTP, CGI scripts, Cron Jobs, and web site statistics.
Pre-Installed Scripts
The following CGI Scripts are pre-installed and ready to use with your account – FREE ! All you have to do is log in to your control panel and activate them with a click of a button to use them. CGI Wrapper, Random HTML, Simple Guestbook, Advanced Guestbook, Counter, Clock, Countdown, CGI Email, FormMail, Entropy Search, and Entropy Banner.
Addon Scripts Library
Create your own portal, webzine or blog by installing one of the following popular scripts that are available at no extra cost from your control panel. InvisionBoard, phpBB, PhpWiki, osCommerce, Coppermine, Mambo, PHP-Nuke, PostNuke, WordPress, Geeklog, AdvancedGuestBook, and cPSupport.
If your favorite Content Management System is not listed… just ask us… and we can probally install it for you for FREE !
Other Features
Other features included in all accounts include: Awstats, Webalizer Stats, Analog Stats, Agora Shopping Cart, Chat Room, PHP MyChat, Error Log, Networking Tools, Backup System, Directory Protection, Directory Redirection, MIME Types, Apache Handlers, Hotlink Protection, Custom Error Pages, and Real Media support.