Programming Tools & Scripts
Database Administration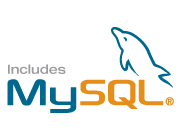 Administer you databases using mySQL – The world's most popular database – with the GUI database manager phpMyAdmin. Connect your database driven website using either localhost or by remote MySQL control.
Advanced Features
Advanced Features include Ruby on Rails Applications, Apache Handlers, Cron Jobs, Custom Error Pages, Custom MIME types, Perl Module Installer and support for CGI, Fast CGI, PHP, PERL, Python and SSI scripting languages. Programming modules supported are Curl, CPAN, GD Library and ImageMagick.
Get Professional Web Hosting Service Today!
Reach out to us with your web hosting questions, comments & concerns.