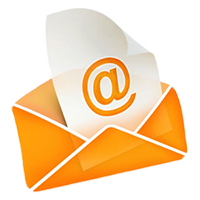 Easily create and manage an unlimited amount of email addresses using your own website's domain name.
Through the email accounts interface a website owner can:
Create new email accounts
Change mailbox size and set quotas
Setup auto responders
Setup email authentication
Setup mailing lists
Auto-Configure local email clients
Forward emails to another email
Delete email accounts
Webmail Access
Webmail allows you to access you email through a web browser from any computer and any location.
Mailing Lists
Mailing Lists creates a simple interface for creating custom Mailman mailing lists. Through the mailing lists interface, website owners can create new mailing lists in a few seconds. The interface also allows website owners to modify current mailing lists through the Mailman interface.
The Mailman interface allows the mailing list owner to create a custom interface for users to sign up to the address, prefix mail postings, create welcome messages, and even a message when a member leaves the list. More information on Mailman can be found on list.org.
Get Professional Web Hosting Service Today!
Reach out to us with your web hosting questions, comments & concerns.